[SIZE=3][FONT=comic sans ms][COLOR=#0000cd][SIZE=4][B]The Path to H4 Employment Authorization.
[/B][/SIZE][/COLOR][/FONT][FONT=comic sans ms][B][COLOR=#333333]
OPT/CPT Blast Resume to 2500+ employers
[/COLOR][/B][/FONT][FONT=comic sans ms]
USCIS announced that as from May 26, 2015
, certain H4 Visa holders will be permitted to apply for a work permit. This work permit although a surprise to many, was not a surprise to those who actually fought for the rights of the H4 visa holders.
Since 2011, a small movement of H4 visa holders, started a Facebook page called "H4 A Curse". This movement was led by Rashi Bhatnagar. While the group was small they were very active over time organizing meetings, and reaching out to influential people to help the cause. At first there was a lot of resistance.
In 2012, the group contacted Shah Peerally, who took an interest in the matter and actually invited the group to discuss about their issues and problem facing this community. Shah organized a live radio show in June 2012 "
H4 Visa Work Permit - problems facing H4 visa holders! H4 Mega Radio Show live (June, 1 2012)
" This radio show was culminating turn for the group which was actually never given a chance to speak their mind.
Consequently, Shah and the group started an online petition "
Give More Rights to H4 Visa Holders
" on Change.org. Over less than two years the petition gathered more than 7000 signatures. Shah Peerally wrote an open letter to President Obama "
Break the H4 Prison
" explaining the difficulties of those who are on H4 visa and and their plight. In this petition, it was mentioned that USCIS has actually proposed a rule giving some H4 visa holders. The same rule which has now become law.
The H4 A Curse group was very active in mounting a targeted campaign reaching out to different major networks and newspapers for help. While some were willing to help, others would clearly turn a blind eye on the matter. So much so that many started to feel that their plight was falling on deaf ears and nothing would change. However, neither the group nor Shah Peerally gave up on the fight.
In 2014, there was a revival of the movement and more and more people including the USCIS started being interested in the change. Ultimately, things started moving in the right direction for the H4 visa holders. In February 2015, the long awaited change happened. Finally the some of the H4 Visa holders will be able to apply for a work authorization card, also know as the H4 EAD card.
Unfortunately as anticipated, not all the H4 visa holders will be eligible to apply for the EAD. Those H4 visa holders whose spouses are on H1B and who have either:
1. An approved Form I-140;
OR
2. Beneficiary of 6[SUP]th[/SUP] year extension under AC 21 laws.
Will be the one who can apply for an H4 employment authorization.
How to Apply for an H4 EAD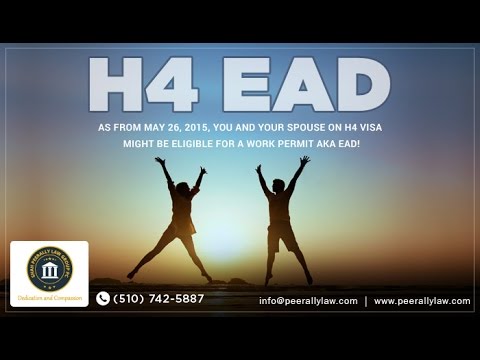 You can read more on the law and how to apply
here.
This change of law was thanks to the great work of this group of people, their leader Rashi and Shah who helped a grass root movement. Amazingly, with no money or lobby they changed and amended a more than 50 years old unfair regulation.
Today those who have fought hard are proud of this success, not only for themselves but also for more than 250,000 H4 visa holders. It also gives hope that a grass root movement in America can still make a difference. We all hope that more people will be inspired by this group to support further positive changes.
Since this law is new, it will be wise to have a lawyer help in the application of the EAD. Should you need help in applying, feel free to contact Shah Peerally for his help.
HOW TO APPLY FOR AN H4 EAD VIDEO!
[/FONT][FONT=comic sans ms][B][COLOR=#333333]
OPT/CPT Blast Resume to 2500+ employers
[/COLOR][/B][/FONT][/SIZE]